Home

>

Takayama-Tokyo (Shinjuku) Line

Express Bus
Takayama-Tokyo (Shinjuku) Line
Required Time:5h30m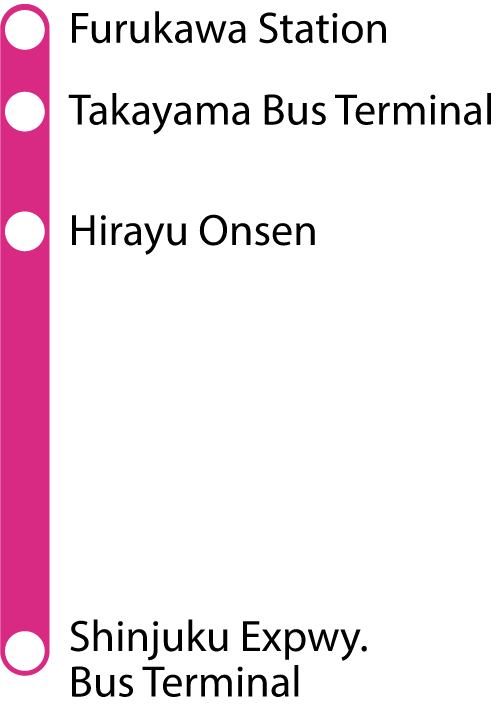 How to book
■Telephone reservation

1) Nohi Bus Reservation Center
 (9:00~18:00)TEL (0577)32-1688
2) Keio Kosoku Reservation Center
 (9:00~20:00)TEL (03)5376-2222

■Online reservation

highwaybus.com


Reservations will automatically be cancelled if payments have not been made 3 days from the date of purchase (including the day of purchase) and/or 1 day before the date of departure.
TakayamaHirayu OnsenShinjuku
← Flick the screen to the left or right →
ShinjukuHirayu OnsenTakayama
← Flick the screen to the left or right →
← Flick the screen to the left or right →
Introducing two types of fares: Weekday(B Bus Fare) and Weekend/Holidays(A Bus Fare)- weekdays are a great discount!
Weekdays are Monday-Friday (excluding holidays)
Weekend/Holidays are Saturday, Sunday, holidays, and during April 27-May 6th, August 1st-20th, December 28th-January 5th, and during the Takayama Festivals (April 13th-15th, and October 8th-10th)
Buy Ticket Counter

Aduls



Takayama Bus Terminal
Nyukawa


Hirayu Onsen



Furukawa Station


Shinjuku

A Bus Fare
(One Way)
B Bus Fare
(One Way)

7,000 yen


6,500 yen

6,200 yen


5,800 yen

7,200 yen


6,700 yen
※Children fare are half price.
Remarks
・All express buses require a reservation. (reserved seats only)

・This bus has a designated women-only seating area.

・Reservations are available two month prior to service. (the same day of the prior month)

・All buses are non-smoking.

・All buses are equipped with a bathroom.

・Please purchase tickets promptly after reservation.

・Please fasten seatbelts while riding buses.

・The luggage may be piled up next to your luggage or change the location or angle.
At that time, we can not guarantee in any case for damage, contamination, loss etc.