Home

>

Takayama-Tokyo (Shinjuku) Line

Express Bus
Takayama-Tokyo (Shinjuku) Line
Required Time:5h30m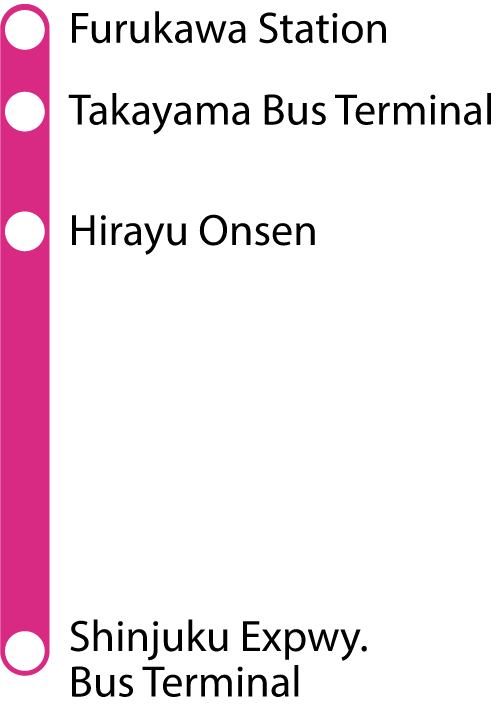 How to book
■Telephone reservation

1) Nohi Bus Reservation Center
 (9:00~18:00)TEL (0577)32-1688
2) Keio Kosoku Reservation Center
 (9:00~20:00)TEL (03)5376-2222

■Online reservation
TakayamaHirayu OnsenShinjuku
← Flick the screen to the left or right →
ShinjukuHirayu OnsenTakayama
← Flick the screen to the left or right →
← Flick the screen to the left or right →
Furukawa

Station

Takayama

Bus Terminal

Hirayu Onsen
One Way
Round Trip
One Way
Round Trip
One Way
Round Trip
6,900
12,460
6,690
12,040
5,860
10,550
4 Coupon Tickets
← Flick the screen to the left or right →
Takayama

Bus Terminal

Hirayu Onsen
24,080
21,100
※The round trip ticket is valid for 7 days.
※The 4 Coupon Tickets are valid for 3 months.
Remarks
・All express buses require a reservation. (reserved seats only)

・This bus has a designated women-only seating area.

・Round-trip tickets are not available for sale at buses.                                                               

・Reservations are available one month prior to service. (the same day of the prior month)      

・All buses are non-smoking.                                                               

・All buses are equipped with a bathroom.                                                        

・Please purchase tickets promptly after reservation.                                                                                 

・Please fasten seatbelts while riding buses.