Home

>

Takayama-Nagoya Line

Express Bus
Takayama-Nagoya Line
Required Time:2h40m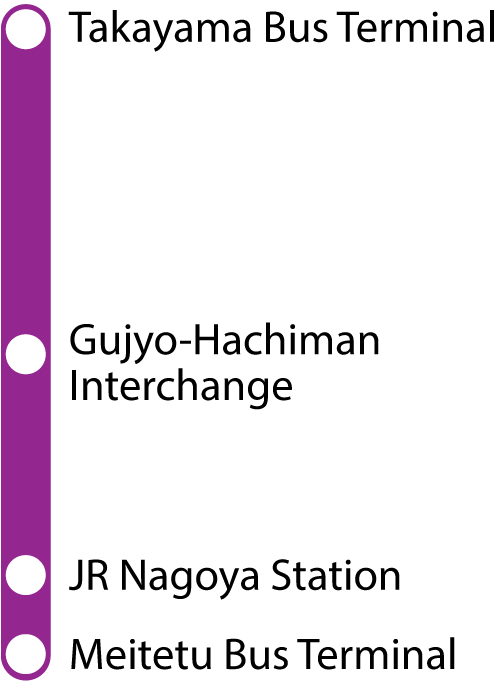 How to book
■Telephone reservation

1)Nohi Bus Reservation Center
 (9:00am~5:00pm)TEL(0577)32-1688
2) Meitetsu Bus Center
 (8:00am~7:00pm)TEL(052)582-0489
3) JR Tokai Bus Nagoya Eki
 (10:00am~6:30pm)TEL(0570)048-939

■Online reservation

highwaybus.com


Reservations will be cancelled automatically if payments have not been done within 3 days(24:00 JST) from the date of reservation (including the day of reservation) .
●For 'Shoryudo Highway Bus Ticket' holders
 For those passengers who have "Shoryudo Highway Bus Ticket", we are afraid that you cannot book a ticket through Japan Bus Online Website.
  Please reserve at ticket office.(Takayama Nohi Bus Terminal, Meitetsu Bus Terminal, JR Tokai Bus Travel Center).
Due to the impact of the spread of COVID-19 infection, some bus of Highway bus Nagoya Line will be partially suspended for the time being from April 21, 2020.
Temporary Timetable
Please check the bus service information for details.
TakayamaGujo HachimanNagoya

← Flick the screen to the left or right →
NagoyaGujo HachimanTakayama
← Flick the screen to the left or right →
← Flick the screen to the left or right →
Centrair
Nagoya
Gujo Hachiman
Gujo Hachiman
Takayama Bus Terminal
One Way
Round Trip
One Way
Round Trip
3,500
ー
4,400
ー
2,200
4,000
3,100
5,400
ー
ー
2,000
3,600
Remarks
・All express buses require a reservation. (reserved seats only)

・Round-trip tickets are not available for sale at buses.

・Reservations are available one month prior to service. (the same day of the prior month)

・All buses are non-smoking.

・All buses are equipped with a bathroom.

・Please purchase tickets promptly after reservation.

・Please fasten seatbelts while riding buses.

・The luggage may be piled up next to your luggage or change the location or angle.
At that time, we can not guarantee in any case for damage, contamination, loss etc.