Home

>

Takayama-Ogizawa Line

Express Bus
Takayama-Ogizawa Line
Required Time:3h30m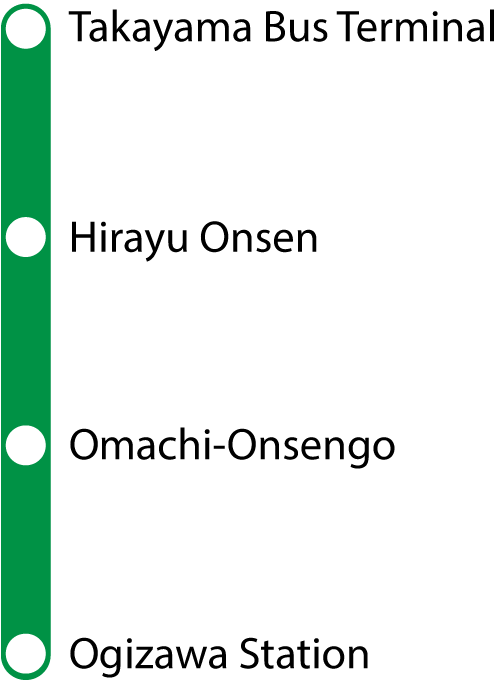 How to book
■Telephone reservation

1) Nohi Bus Reservation Center
 (9:00am~6:00pm)TEL(0577)32-1688

■Online reservation
TakayamaHirayu OnsenOgizawa
← Flick the screen to the left or right →
OgizawaHirayu OnsenTakayama
← Flick the screen to the left or right →
← Flick the screen to the left or right →
Ogizawa Station
Omachi Onsengo
Takayama

Bus Terminal

Hirayu Onsen
One Way
Round Trip
One Way
Round Trip
4,200
6,000
3,200
5,000
4,200
6,000
3,200
5,000
※About Child fee
← Flick the screen to the left or right →
※Children's(6-12) fare are half price.
※Child under 6 is no-charge.  However, if child occupies a seat, a child fare will be charged.
One child is free for one accompanying person, but if the seat is full, we'll turn down child boarding. (Ride on the lap is ok.)
Remarks
・All buses require a reservation.
・Reservations are available three months prior to service.(the same day of the prior three month)
・Please purchase tickets promptly after reservation.
・Round-trip tickets are not available for sale at buses.
・All buses are non-smoking.
・Please fasten seatbelts while riding buses.

・The luggage may be piled up next to your luggage or change the location or angle.
At that time, we can not guarantee in any case for damage, contamination, loss etc.